Inclusivity for improved customer engagement
If you subscribe to any digital newsletter it's likely that you have been reading about the increasing importance of website accessibility.
So, is your website accessibly friendly? Can website visitors with cognitive, physical, and visual disabilities easily read & navigate your website? More specifically, can visitors perceive, understand, navigate, interact, and contribute?
Your first reaction might be "Yes! Of course!" Unfortunately, and more likely, your website is not as inclusive and accessible as you think.
In the past week alone I've receive at least 4 eNewsletters with articles about the increasing importance of website accessibility. And it is important to take immediate action because inclusivity means connecting with a wider audience – customers who are going to share their brand experience with others.
According to Seyfarth (an international AmLaw 100 law firm keeping track since 2013), "ADA Title III website accessibility lawsuits filed in federal courts in 2021 jumped 14% over 2020."  And it's not just major retailers that need to be concerned about lawsuits.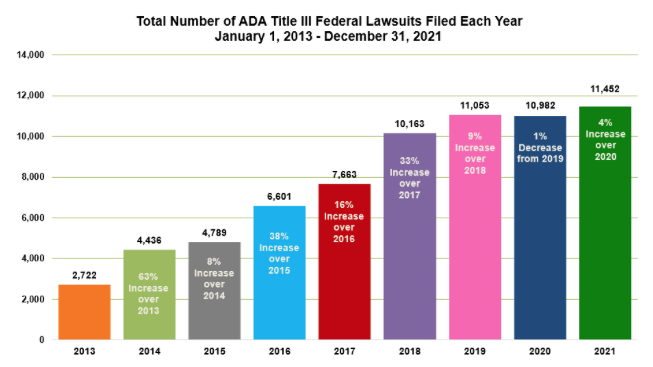 Small businesses such as "mom and pop" shops are no longer immune.
There are different levels of WCAG 2.1 compliance (A (lowest), AA (mid range), and AAA (highest)) and with new guidelines coming in 2023 (WCAG 2.2), it is important to know which level your business needs to achieve.
Your website is one of your company's most important marketing and functional assets and you don't want to risk turning anyone away. Ensuring regulatory compliance should be a priority for any business and it can be achieved by avoiding simple design mistakes and implementing best practices such as including extensive ALT TAGS descriptions on images.
Even if you aren't sure if your website is ADA Compliant, there are many reasons to make the investment aside from protecting your business against lawsuits:
Wider Audience Target
Improved SEO Results
Better User Experience for EVERYONE
Avoiding Costly Lawsuits & Expensive Penalties
It's never too late to add Web Accessibility Compliancy to your current business goals. Waiting until your next fiscal year to address any issues only lengthens the time you are vulnerable to risks of lawsuits and penalties.
If you're curious if your company's website is compliant contact us today for a free audit that identifies your issues and areas of risk.